पूर्वोत्तर भारत में मक्का के प्रमुख कीटों का पर्यावरण-अनुकूल प्रबंधन
The maize is grown in a wide range of environments, extending from extreme semi-arid to sub-humid and humid regions of India. Maize is considered a promising option for diversifying agriculture in upland areas of India. It now ranks as the third most important food grain crop in India. The crop is also very popular in the low- and mid-hill areas of the western and north eastern hill (NEH) regions (Joshi et al., 2005).
In NEH region of India, maize is primarily grown under jhum land and terraced area. This crop is infested by large number of insect pests, which cause severe damage from germination to harvest resulting into low yield. Maize cob borer and stem borer are the major pests of maize. Termites, ear cutting caterpillars and field crickets are also found in the early stage of crop growth.
The other pests viz., Bihar hairy caterpillar (Diacrisia obliqua), aphids (Rhopalosiphum maidis), leafhoppers, white backed plant hoppers, semilooper (Trichoplusia orichalcia), tussel caterpillars, grasshoppers (Chrotogonus roberstoni, Oxya chinensis, Aularchis meliaris), armyworm (Mythimna separata), elephant beetle (Xylotrupes giddeon) and termites, are of minor importance (Shylesha et al., 2006; Azad Thakur et al., 2009).  The details on identification, biology and life cycle of some of the important pest of maize are given below; 
Maize Cob borer (Stenachroia elongella) 

The cob borer moths emerge during the third week of June and the egg laying starts two days after eclosion, at cob initiation stage and continues up to 80 days after sowing.  The adult female lays 70-80 eggs singly on the base of the cobs between two cob sheaths.
The eggs are small cream colour and hatch in 5-8 days. The newly emerged larvae puncture the cobs and excrement on the cob is the clear symptom of damage by cob borer.  The presence of 3-5 larvae per cob is sufficient to damage the cob completely. 
Total life cycle of the pest is 45 days. There are four larval instars over a period of 28-30 days.  Pupation occurs within the cob or between the cob sheath and pupal period ranges from 6-8 days. Adult male lives for 8-10 days and female lives for 10-15 days. 
There are three to four overlapping generations from July to end of the September.  The late sown crop suffers heavily compare to early sown crop.  Larval excrement material and webbing is clearly seen on damaged cobs. The pest damages the cobs up to 34.2%.
Maize Stem Borer (Chilo partellus) 
Newly hatched larvae scrap the central leaves of the whorl and soon tunnel into the stem through the whorl. The new emerging leaves of the whorl show small pinholes  known as shot hole injury.
Grown up larvae produce bigger holes in the whorl leaves, the severe attack results in drying of central whorl of the plant, which is called 'dead heart' (Fig 2).
The plants showing dead hearts do not show usual leaf injury symptoms, remain stunted in growth and no flowering takes place.
The larvae also damage the emerging tassels, silk and developing grains on the cobs and pupate inside the stem. This is the most serious pest of maize and causes up to 70-75 per cent damage.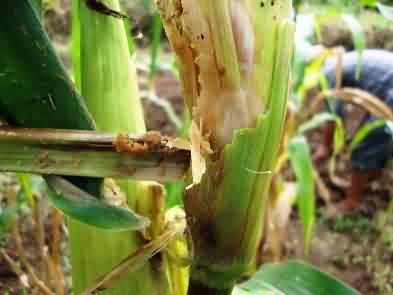 Fig 2. Stem borer damage
Army Worm (Mythimna separata) in Maize crop
The full-grown caterpillar is stout, 4 cm long and dusky brown in color with pale/brown longitudinal stripes, the dorsolateral stripes being broken into spots.
The outbreak of this pest occurs suddenly and farmers generally notice it after it has already caused considerable damage.
The caterpillars generally feed at night and hide in whorls of plants during the day. The caterpillars march from field to field and voraciously feed on foliage. They appear after the heavy rains or early floods.
Aphids (Rhopalosiphum maidis) in Maize crop
Both apterous and pterous aphids infest the upper half of the plant. Generally, this insect is very active during the rabi season. Long dry spells increase the incidence of this insect.
Nymphs and adults (Fig. 3) suck the sap from the leaves/shoots and exude honeydew, on which a sooty mold grows, giving the leaves a black appearance and thus affect photosynthesis badly.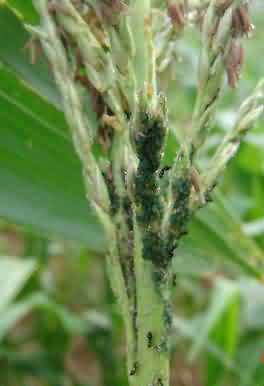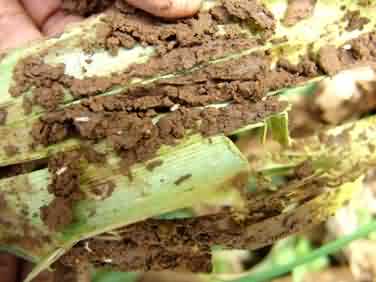 Fig 3. Aphids on inflorescence            Fig 4. Termite damage
Termites (Microterms obesi) in Maize
Termites are polyphagous pests. The worker caste is the damaging stage. This pest feed on roots of maize causing severe damage and leads to yellowing of plants (Fig. 4).
Eco-friendly Management of major pests of Maize
Deep ploughing in the month of March/ April exposes the larval/ pupal stages of insect pest like cob borer, stem borer and cut worm, to natural predators like birds. Eggs of grasshoppers and crickets also get exposed to sunlight and get killed.

Burning of the crop residues or allow farm animals to graze on it kills the over wintering stages i.e. larvae and pupae of cob borer and stem borer.

Crop should be planted early i.e. in the month of March/April to overcome cob borer attack.

Sorghum varieties IS-2312, DJ-6514 and DSV-1 can be grown as trap crop to escape the cob borer damage.

Tolerant variety, RCM 1-1 or Local yellow of maize should be grown to escape the cob borer damage.

Collection and destruction of the grown up larvae of cutworm and armyworm gives good control.

Destruction of the colonies of the termites in the vicinity of field gives protection against the termites.

Spraying of Neemark or Limanool @ 3 ml /lit at the silking stage reduce cob borer population.

Whorl application of carbofuran 3 G @ 5-6 granules per whorl at 25 - 30 days after germination effectively checks the stem borer, cut worms and armyworms.

Spraying Dipel @ 1 lit/ha at 80-90 DAS gives effective control of cob borer and aphid.

Carbaryl (5%) dust @ 20 kg/ha before sowing the crop is very effective against the field cricket and termites. 
References:
Joshi, P.K., N.P. Singh, N.N. Singh, R.V. Gerpacio, and P.L. Pingali. 2005. Maize in India: Production Systems, Constraints, and Research Priorities. Mexico, D.F.: CIMMYT.

Shylesha A N., Azad Thakur NS, Pathak K A., Rao K R., Saikia K., Surose S., Kodandaram, N H. and  Kalaishekar A. 2006.  Integrated management of insect pest of crops in north eastern hill region. Technical Bulletin No. 19. ICAR RC for NEH Region, Umiam, 50p.

Azad Thakur, N.S., Kalaishekhar, A. Ngachan, S.V. Saikia, K., Rahaman, Z. and Sharma, S. 2009. Insect pest of crops in north east India. ICAR Research Complex for NEH region, Umiam, 360p.
---
Authors:
David Nonglait1*, Pritin Sontakke2, D M Firake1 and G T Behere1
1Division of Crop Improvement (Entomology), ICAR Research Complex for NEH Region, Umroi road, Umiam, Meghalaya-793103, India 
2College of Post Graduate Studies, Central Agriculture University, Umroi road, Barapani, Meghalaya-793103, India
*Email: This email address is being protected from spambots. You need JavaScript enabled to view it.  (Corresponding author)