स्वास्थ्य वर्धक, पोषण से भरपूर सब्‍जी - ब्रोकली
Brassica vegetables (Broccoli, Brussels sprouts, cabbage, cauliflower, collards, kale, mustard, rape, etc.)  have received a great deal of attention in the past 5–10 years as consumers have developed an increases awareness of the nutritional content of foodstuffs in their diet. 
Brassicaceae family (Cruciferae) includes vegetables that are commonly grown and include broccoli, Brussels sprouts, cabbage, collards, kale, mustard, rape, etc. Broccoli (Brassica oleracea var. italica) is an important cole crop. The majority of Brassica vegetables are purchased and consumed as fresh vegetables, mostly following cooking.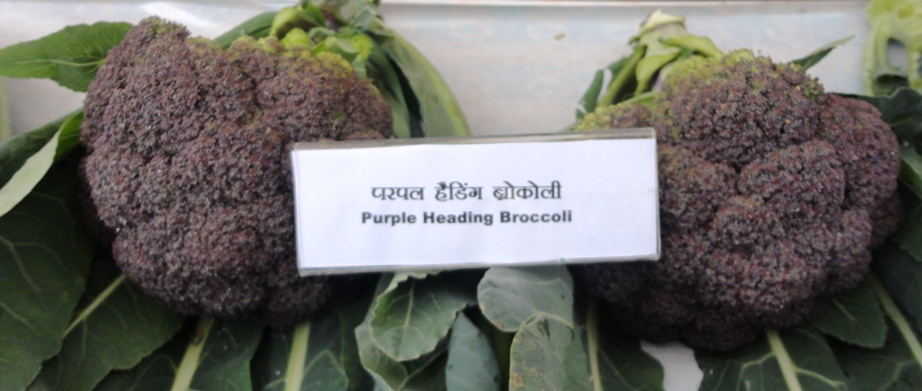 The time and methods of cooking have a considerable influence on nutrient availability and content. Since ancient period the mankind made medicines from the extracts of natural materials and has been used for various purposes. Nutritional value of Broccoli is given in Table1.
Table 1:  Nutritional value of Broccoli (Brassica oleracea var. italica), fresh, raw, Nutrition value per 100 g. 
| | | |
| --- | --- | --- |
| Principle | Nutrient Value | Percentage of RDA |
| Energy | 34 Kcal | 1.5% |
| Carbohydrates | 6.64 g | 5% |
| Protein | 2.82 g | 5% |
| Total Fat | 0.37 g | 1% |
| Cholesterol | 0    mg | 0% |
| Dietary Fiber | 2.60 g | 7% |
| Vitamins |   |   |
| Folates | 63 µg | 16% |
| Niacin | 0.639 mg | 4% |
| Pantothenic acid | 0.573 mg | 12% |
| Pyridoxine | 0.175 mg | 13% |
| Riboflavin | 0.117 mg | 9% |
| Thiamin | 0.071 mg | 6% |
| Vitamin A | 623 IU | 21% |
| Vitamin C | 89.2 mg | 149% |
| Vitamin E | 0.17 mg | 1.5% |
| Vitamin K | 101.6 µg | 85% |
| Electrolytes |   |   |
| Sodium | 33 mg | 2% |
| Potassium | 316 mg | 7% |
| Minerals |   |   |
| Calcium | 47 mg | 5% |
| Copper | 0.049 mg | 5.5% |
| Iron | 0.73 mg | 9% |
| Magnesium | 21 mg | 5% |
| Manganese | 0.210 mg | 9% |
| Selenium | 2.5 µg | 5% |
| Zinc | 0.41 mg | 4% |
| Phyto-nutrients |   |   |
| Carotene-ß | 361 µg | -- |
| Crypto-xanthin-ß | 1 µg | -- |
| Lutein-zeaxanthin | 1403 µg | -- |
(Source: USDA National Nutrient data base)
Health-promoting compounds of Brassica vegetables
Epidemiological studies have shown that increased consumption of vegetables and fruits is associated with a lower risk of degenerative disease such as cancer, cardiovascular disease, cataracts and brain and immune dysfunction.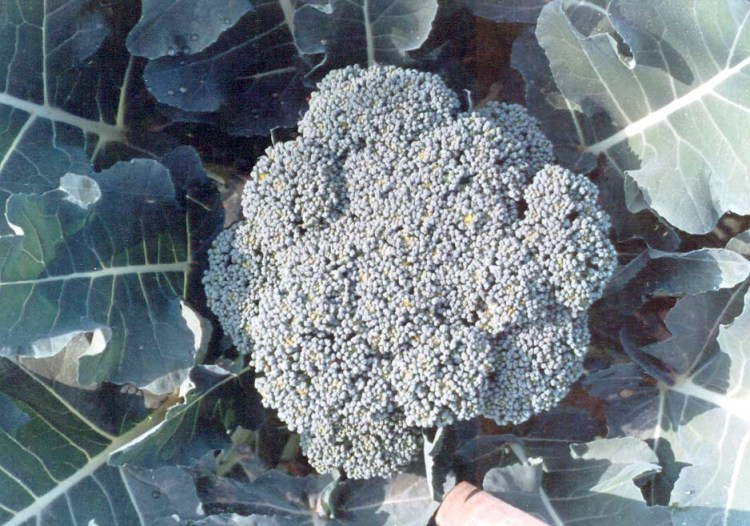 Brassica vegetables have been identified as important components of a healthy diet because of their high levels of constituents that may have a beneficial health-promoting role. These vegetables are also known to be beneficial in the prevention of other major illness such as Alzheimer's disease, cataracts and some of the functional declines associated with ageing.
The main health providing properties identified in Brassica are dietary flavonoids, essential vitamins, and minerals and glucosinolates (and their break down products).
Brassica vegetables are excellent sources of a variety of vitamins, minerals and dietary fibre. Vitamin and provitamin antioxidants such as ascorbic acid (vitamin C ), tocopherols (vitamin E) and carotenoides are compounds present at high levels in the vegetable brassica.
In addition, Brassica vegetables provide significant levels A, B2 (riboflavin), B6 (pyridoxine), K and folic acid. Vitamin K (Phylloquinone) is a fat-soluble vitamin that functions as a coenzyme and is involved in blood clotting and bone metabolism, and broccoli contain >100 micro g phylloquinone/100 g vegetable, either raw or cooked. Since it also contains polyphenolics.
Important minerals supplied by Brassica vegetables include calcium, potassium, iron, zinc, magnesium and selenium.
The calcium content of certain Brassica vegetables has good bioavailability, making it a good source of calcium for lactose intolerant people.
Supplementation studies with high selenium broccoli have demonstrated the efficacy of selenium for prevention of colon cancer.
Brassica vegetables such as broccoli are a significant source of flavonoides and hydroxyl cinnamic acids, which have been implicated as having a role of reducing the risk of heart disease.
Health Benefits of Broccoli
Broccoli is very low in calories, provides just 34 cal per 100 g. However, it is rich in dietary fiber, minerals, vitamins, and anti-oxidants that have proven health benefits.
Fresh Broccoli is a storehouse of many phyto-nutrients such as thiocyanates, indoles, sulforaphae, isothiocyanates and flavonoids like beta-carotene cryptoxanthin, lutein, and zeaxanthin.  Studies have shown that these compounds by modifying positive signalling at molecular receptor levels help protect from prostate, colon, urinary bladder, pancreatic, and breast cancers.
Fresh vegetable is exceptionally rich source of vitamin-C. Provides 89.2 mg or about 150% of RDA per 100 g. Vitamin-C is a powerful natural anti-oxidant and immune modulator, helps fight against flu causing viruses.
Furher, it contains very good amounts of another anti-oxidant vitamin, vitamin-A. 100 g fresh head provies 623 IU or 21 % of recommended daily levels. Together with other pro-vitamins like beta-carotene, alpha-carotene, and zeaxanthin, vitamin A helps maintain integrity of skin and mucus membranes. Vitamin A is essential for vision and helps prevent from macular degeneration of retina in the elderly population.
It is also a good source of minerals like calcium, manganese, iron, magnesium, selenium, zinc and phosphorus.
Fresh broccoli heads are an excellent source of folates, contains about 63 mcg/100 g (Provides 16% of RDA). Studies have shown that consumption of fresh vegetables and fruits rich in folates during pre-conception and pregnancy helps prevent neural tube defects in the offspring.
Broccoli leaves (green tops) are an excellent source of carotenoids and vitamin A, (provide 16000 IU of vitamin A per 100 g) contain these compounds several times more than in the roots.
This flower vegetable is also rich source of other vitamin-K and B-complex group of vitamins like Niacin (vit B-3), pantothenic acid (vit.B-5), pyridoxine (vit.B-6) and riboflavin. The flower heads also have some amount omega-3 fatty acids.
Broccoli also contains the compound glucoraphanin, which can be processed into an anti-cancer compound sulforaphane, though the benefits of broccoli are greatly reduced if the vegetable is boiled more than ten minutes. A high intake of broccoli has been found to reduce the risk of aggressive prostate cancer. Broccoli consumption has also been shown to be beneficial in the prevention of heart   disease.
Flavour compounds
The characteristic sulphurous and bitter taste of brassica vegetables is assumed to be due mainly to the glucosinolate composition. The glucosinolates sinigrin and progoitrin have been correlated to bitterness in Brussels sprouts, while a combination of neoglucobrassicin and sinigrin causes the bitter taste in cooked cauliflower.
The flavour of the crops is determined partially by the total amount of glucosinolates, the side chain structures and the activity of the myrosinase. The presence of certain isothiocyanates in varying degrees of bitterness, which make particular cultivars unacceptable to the consumer.
Processing: Effect of cooking
Most traditional Brassica vegetables such as Cabbage, Broccoli, Brusels sprout, etc. are consumed following cooking and this process can be detrimental to the nutrient quality of the product that is actually consumed. The effect of cooking (boiling) on vitamin levels in several Brassica vegetables have been studied by several researchers and it is clear that some vitamins, such as vitamin C, are reduced following cooking.
Measurement of total and individual flavonoid components in freshly harvested broccoli cooked in four different ways showed that there were large differences with the different cooking methods. Microwaving was the most detrimental method, with 97 % loss of flavonoid content, steaming was the optimum cooking method, showing a loss of only 11%.
Processing: Effect of Freezing
Broccoli is usually frozen into florets when product availability outstrips demand, however freezing can have a negative effect on health- promoting compounds. The levels of nutrients in cooked frozen broccoli and Brussels sprout compared with cooked fresh vegetables were studied by earlier. It is found that some nutrients such as   vitamin C are lost in the freezing process.
Freezing broccoli is usually preceded by a blanching step to inactivate enzymes that cause product deterioration, enzymes such as lipoxygenase, peroxidise, and cystine lyase contribute to the development of 'off' aromas in stored vegetables.
Varieties/ hybrids of Broccoli available for cultivation
Broccoli is an emerging cole crop in Indian market for its taste and heath benefiting properties. It is an exotic crop and introduced genetic materials was evaluated in different stations i.e. IARI RS, Katrain and CSK Himachal Pradesh Agricultural University (HPAU), Palampur which resulted into promising varieties for Indian condition as given in Table 2. Private sector imports hybrid seeds and market in India such as Fiesta, Aishwarya, Green, Southern Comet, Premium Crop, Clipper, Laser (early), Corsair, Excalibur Cruiser, Emerald Carona (mid season), Late Carona, Stiff, Kayak, Green Surf (late) are being imported for cultivation in India.
Table 2. Improved varieties of Broccoli
| | | | | | | |
| --- | --- | --- | --- | --- | --- | --- |
| Variety | Source | Days for maturity | Head weight (g) | Yield per ha | Head colour | Remark |
| Pusa KTS-1 | IARI RS, Katrain | 85-95 | 350-450 | 16 (hills) 6.4(plains) | Solid green | Sprouting broccoli Resistant to mild frost and snowfall |
| Palam Samridhi | HPKVV, Palampur  | 80-90 | 300-400 | 15-20 | Green | Sprouting broccoli |
| Palam Vichitra | HPKVV, Palampur  | 115-120 | 350-50 | 20-22 | Purple | Heading broccoli |
| Palam Kanchan | HPKVV, Palampur  | 140-145 | 350-400 | 25-27 | Yellowish green | Heading broccoli |
| Palam Haritika | HPKVV, Palampur  | 145-150 | 300-400 | 17-22 | Green | Sprouting broccoli |
| Punjab Broccoli 1 | PAU, Ludhiana | 65-70 days | 300-400 | 16-17 | Bluish dark green | Sprouting broccoli |

 Conclusion
Increasing awareness of the beneficial phytochemicals, neutraceuticals present within the Brassicaceae has led to the promotion of these vegetable crops to 'super foods' status. It has become apparent that modern breeding techniques will enable that directed action required to capture the allelic variation necessary to improve public health further. In line with an increasing understanding of the interactions between genotype, pre-harvest environment and post-harvest conditions, an understanding nutrient × human allele interactions is required in order to maximize the benefits associated with the consumption of this crop type. The ever-growing field of nutritional genomics seeks to integrate these diverse areas of research in a systematic approach, to deliver directed advice that may be adopted for policy guidance.
---
Authors
Brij Bihari Sharma*, Shrawan Singh and B.S. Tomar
Division of Vegetable Science,
Indian Agricultural Research Institute, Pusa Campus New Delhi-110012                
*email: This email address is being protected from spambots. You need JavaScript enabled to view it.