सफेद मूसली उगाऐं - एक आश्चर्यजनक जड़ी बूटी और औषधीय पादप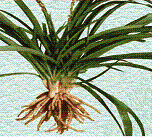 Safed musli (Chlorophytum borivilianum L.) is a herb with sub-erect lanceolate leaves and tuberous root system belonging to the family Liliaceae. It can grow upto a maximum height of 45 cm. Tubers can grow upto a depth of 25 cm. It is a tiny annual herb that grows well in tropical and sub-tropical climates with altitudes upto 1500 meters.
There are about 256 species of Chlorophytum and 17 among them are found in India. Among these, Chlorophytum borivilianum has good market both indigenously and globally. It is an annual crop capable of giving good returns to farmers under irrigated conditions.
Safed musli is found growing in thick forests in its natural form. The roots of safed musli are reported to contain 2-15% saponin, which has the medicinal property of enhancing vitality and immunity to human beings. It also helps in correcting gynaecological disorders. Roots are used for the preparation of nutritive tonic used in general sexual weakness. These roots contain spermatogenetic, spermatorrhoea and chronic leucorrhoea due to some chemical content. There are many other therapeutic uses of safed musli where dried tubers are used as a curative for pre-natal and post-natal illness, arthritis, restorative and a health tonic etc. Because of its medicinal property, safed musli is known as divya aushadhi and ayurvedic plant.
It is reported that the annual demand for dried safed musli roots is 500 tones in India. The natural source is getting fast depleted necessitating field cultivation of this medicinally important crop.
Safed musli is cultivated in most states of the country, the prominent amongst them being Madhya Pradesh, Maharashtra, Punjab, Andhra Pradesh etc. Based on agro climatic suitability,  it can be cultivated in Eastern, Western, Central and Southern Plateau and Hill regions, East and West Coast Plains and Hill regions and Gujarat Plains and Hill regions comprising the states of Bihar, Orissa, Uttar Pradesh, Rajasthan, Karnataka, Kerala, Tamilnadu and Gujarat. The Medicinal Plants Board has recognized Safed musli as 6th important herb to be protected and promoted. The Board encourages mainstream cultivation of Safed musli by farmers by extending a subsidy of 20% through National Horticultural Board on project cost. Nowadays, there is a very vast demand of safed musli and due to its huge demand it is very costly in the market.
Technical Specifications of safed musli
| | |
| --- | --- |
| Common name | Safed musli |
| Botanical name | Chlorophytum Borivilianum |
| Use | Tonic |
| Growth of roots | Tubberous |
| Seeds | Black triangular two seeds present in single locule |
| Class | Monocotyledons |
| Series | Coronarieae |
| Family | Liliaceae |
| Genus | Chlorophytum |
| Species | Borivilianum |
Chemical Composition of safed musli
| | |
| --- | --- |
| Chemical Composition | Content (%) |
| Carbohydrates | 35-45 |
| Proteins | 5-10 |
| Fibre | 25-35 |
| Saponins | 2-15 |
| Alkaloids | 15-25 |
The saponins and alkaloids present in the plant are the primary source of its significant medicinal properties.
Species of Safed musli: 
In India about eight species of safed musli, namely Chlorophytum borivillianum, Chlorophytum arundinaceum, Chlorophytum tuberocum, Chlorophytum malabericum, Chlorophytum attenuatum, Chlorophytum breviscapum,Asparagus filicinus and Asparagus gonoclados are reported, out of them only Chlorophytum borivillianum, Chlorophytum arundinaceam and Chlorophytum tuberosum are commercially cultivated by the Indian farmers. Chlorophytum borivillianum is the only species, which is under commercial cultivation.
Its tubers are used in Ayurvedic medicines; it contains about 27 alkaloids, steroid saponin (2-17%), polysaccharides (40-45%), carbohydrates, proteins (7-10%), minerals, vitamins etc.
Climate and Soil for 

Safed musli cultivation

:
 Safed musli can be grown in hot and subtropical climate. It prefers sandy loamy to loamy soils rich in organic matter,  having normal pH range, super phosphate, decomposed farm yard manure (FYM) and  good drainage system for its better tuber growth. Warm  and humid climatic condition with good amount of soil moisture during the growing season suits luxuriant  vegetative growth and facilitate fleshy root development. Hard and acidic soils should be avoided.
Nursery raising and Planting of safed musli:
It could be propagated through seeds as well as by vegetative means (root-stock bearing buds or growing points).
By Seeds:
The seeds are black in colour and with angular edges. It takes 12-16 days to sprout. The seeds should be sown in a very well prepared seed bed mixed with farm yard manure or leaf litter in the first or second week of June and adequate moisture should be continuously maintained during absence of rain in early part of the season. The seedlings can be transplanted in the field during the next Kharif season only at 30x15 cm spacing because the development of plants as well as roots by means of seeds in the first year is not vigorous enough as compared the vegetatively  propagated  plants.
Vegetative Propagation:
The initiation of sprouts of fleshy roots starts in mid May but sometimes it could be as early as the last week of April in stored material. In the forest seedlings emerge out from the ground within 4-6 days after receipt of rains. However, for the purpose of raising plants in the field either the sprouted seedlings should be collected from the forest between 10 to 30 days after receipt of rains and transplanted in the field or fleshy root bunches should be taken out from the ground or storage place in mid of May. Even a small, 1 cm long and slightly shrinken fleshy roots or root stocks has a capacity to reproduce into new plants. These fleshy roots sprout from second week of May to second week of June. The sprouted fleshy propagules should be planted in the field in first or second week of June, followed by irrigation. The practice of planting on top of the ridges of 15-20 cm height at a row distance of 30x15 cm is found adequate for obtaining commercial yield. It is estimated that 250-300 kg of root stocks will be required for planting one ha land. It can be easily intercropped in between maize rows.
Field preparation for safed musli: 
Ploughing should be done in the month of March-April and sowing of seeds of sunhemp or sesbania spp. (Dhencha) @ of 60 kg/acre for green manure. Before commencement of flowers sunhemp/dhencha mixed with soil and irrigate for easy and early decomposition. If the area of cultivation is infested with termites than go for datura cultivation and mixed with soil. If soil is of clay nature and requires soil conditioning than use soil conditioner mycemeel (Hindustan Antibiotics, Pune) @ of 1.5 ton/acre. Deep ploughing is done in the month of mid May and mixed 30-40 tones of decomposed farm yard manure /acre. For breaking of clods and better pulverization of soil go for 3-4 tillers. Final bed preparation activities must be completed before commencement of first rainfall.
Bed Preparation:

 
Being a tuber crop it is cultivated on the raised beds for easy tuber growth and for proper drainage. These beds are raised with the use of an implement called special bed raiser attached to tractor. The width of the bed is 100-110 cm and height is 45 cm.
Selection of Seeds:
 Two to five fingers of musli along with the part of crown (Depending on the length of finger) weighing between 8-15 gm is most suitable.
At least 4.5 qt (450 kg) of fresh and healthy tubers of Chlorophytum Borivilianum variety having crown portion on top is needed for  sowing one hactare (30,000 – 35,000 fingers are required per acre)
Treatment of Seed:
Before sowing seed should be treated with fungicide and growth promoter to avoid infestation of insect, pest and diseases.
Seed can be treated with Humicil @ 5ml/lit or Dithane-M 45@ 5g/lit of water.
Planting of safed musli :
 Its tubers are planted on the raised beds in the month of June-August. Initially it was done till July but due to uncertainty of rainy season, it is planted till August also. Planting of fingers is done on beds or ridges depending on the slope and drainage of the soil. Generally fingers are planted at a distance of 35 to 40 cm. About 80,000 fingers weighing 1.0-1.2 tones are required for planting one hectares of area.
Manuring: 
The use of 10-15 tones of farm yard manure /ha provides good nutrient status to the substratum for supporting healthy plant growth. Vermicompost, well decomposed organic manure and farm yard manure are the major sources of organic manure. Organic manure @ 30 to 35 tonnes/ha is applied to take care of the major and micronutrient requirements of the crop and also soil conditioning, biological activity enhancement etc.
Irrigation:
For the maintenance of sufficient moisture in the soil, field should be irrigated in every 20-22 days for better growth and development of the crop.
Weeding in safed musli: 
Two to three weeding is done in initial stage of growth to check the weeds.
Plant Protection of safed musli:
Spraying of Neem or Chrysanthemum or tobacco or application of
Trichoderma
is done for the control of diseases like leaf spot, anthracnose, wilt etc.
Harvesting of safed musli:
The crop matures in about 90 days under cultivation. At maturity, the leaves start yellowing and ultimately dry up from the collar part and fall down. Generally the crop is harvested in the months of September/October.
Safed Musli Drying:
During digging of plants, fleshy root bunches should be lifted from the soil. The harvested fleshy roots are cleaned and white musli tubers are spread out in the shade for about 4-7 days for drying to about 20% moisture.
Peeling:
 The roots are peeled manually with the help of a sharp knife to remove the outer skin. It is a tedious job involving manual labour and substantial expenditure. The peeled dry musli is packed and marketed.
Storage of Planting Material: 
Ventilated racks are used to store safed musli for next year in controlled temperature of 25 – 31
o
C and at a relative humidity of 50 - 65%. It is stored after anti-fungal treatment. It is stored in Sand, Wooden powder.
Yield & Price: 
On an average the crop gives a yield of 4.0-5.0 tones/hec of wet musli tubers. After peeling and drying nearly 20% dry musli, that is 8-10 qt is finally obtained. In the domestic market, the price ranges between Rs 800 to Rs 1800 per kg depending on the quality of the product. The 
Profit/Year is about Rs.4.0-6.0 lac/ha/Year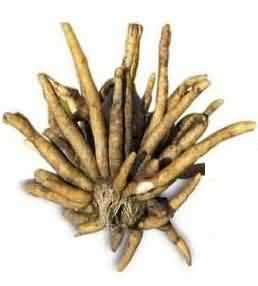 Demand:  
The Demand of safed musli (35000 tones/annum) is much higher than the supply/collection (5000 tones/annum).  Looking to the increasing demand and alarming dangers, it has become inevitable to undertake the commercial cultivation of the safed musli.
Cost of Production & Profitability (per hectare):
| | |
| --- | --- |
| Particulars | Amount (Rs.) |
| Compost-12 trolleys @Rs. 900 each | 10,800 |
| Land preparation+ bed raising | 12,000 |
| Planting material 1 tonne or 1 lakh double tubers @ Rs. 3.50 each | 3,50,000 |
| Sowing | 8,200 |
| Weeding & pest control | 7,000 |
| Irrigation & supervision | 9,000 |
| Harvesting | 18,000 |
| Peeling | 60,000 |
| Packing, transportation & misc. | 35,000 |
| Total cost of inputs | 5,10,000 |
| Total output (1,000 kg peeled, dry roots @ Rs.1,000 / kg) | 10,00,000 |
| Net profit | 4,90,000 |
Composition and Uses:
For therapeutic application in ayurvediunani, allopathic.

Curative of many physical illness and weakness.

It has spermatogenic property and helpful in curing impotency as they are rich in glycosides.

Curing of diabetes and arthritis.

For increasing general body immunity.

Used in PAN and GUTKHA.

Root powder fried in the GHEE, CHEWED in case of apathies of mouth and throat.

Curative of natal and post natal problems.

Safed musli is very effective in increasing male potency.

It is considered as an alternative to Viagra.
Caution:

 
The number of farmers interested in musli growing is increasing very rapidly but due to lack of expert knowledge about cultivation, particularly harvesting and post harvest processing, the middlemen are cheating the farmers. Most of the time farmer is paid low price by the middlemen, in the name of poor quality, color and size. Therefore utmost care should be taken while undergoing into some buyback agreement, with any farm/ consultant or buyer, about the quality parameters.

Summary:

 
Safed musli is a cash crop with low risk and assured tax-free high returns. Scientific mode of cultivation and careful selection of planting material will yield repeated benefits year after year. As the huge demand for this herb, it is driving to extinction. It should be grown ex-situ which will not only preserve the biodiversity but also generate vast incomes in an equitable and eco-friendly manner.     
---
Authors:
Vasudev Meena, M.L. Dotaniya, B.P. Meena, H. Das
Scientist,
Indian Institute of Soil Science,
Nabi bagh, Bersia road, Bhopal (MP)-462038
 E-mail ID- This email address is being protected from spambots. You need JavaScript enabled to view it.
This email address is being protected from spambots. You need JavaScript enabled to view it.