Maize (Zea mays L.) is the most widely distributed crop of the world being grown in tropical, sub-tropical and temperate regions up to 500 and from sea level to more than 3000m under irrigated to semi-arid conditions. Being a versatile crop, it adapts easily to a wide range of production environments.
In India, maize is the third most important cereal after rice and wheat that provides food, feed, fodder, and serves as a source of basic raw material for the number of industrial products,viz. starch, protein ,oil, alcoholic beverages, food sweeteners, cosmetics, bio-fuel, etc. No other cereal can be used in as many ways as maize. Virtually every part of the plant has an economic worth.
The grain can be consumed as human food, fermented to produce a wide range of foods and beverages, fed to livestock, and used as an industrial input in the production of starch, oil, sugar, protein, cellulose, ethyl alcohol, etc.
The leaves, stalks, and tassels can be fed to livestock, either green (in the form of fodder or silage) or dried (in the form of Stover). The roots can be used for mulching, incorporated into the soil to improve the physical structure, or dried and burned as fuel.
In India, maize is cultivated over 8.26 million ha with a production of 19.31 million tons having an average productivity of more than 2.4 tons/ ha, contributing 8.5 % to the Indian food basket. It occupies an important place as a source of human food (25%), animal feed (11%), and poultry feed (52%), starch (11%), brewery (1%) and seed 1% (Fig.1).
The growth rate of area (2.83 %), production (30.93 %) and productivity (27.35%) over the past years, has shown a remarkable increase as compared to other principal cereal crops. No other cereal crop has shown the high growth rate as of maize. 
Maize breeding activities in India
Maize breeding strategy in India has gone through many phases of switch -over since the inception of All India Coordinated Research Project (Fig.2) on maize in 1957. However, the last three to five years have been the landmark years since the adoption of high yielding hybrids on farmers' fields proved as critical input for achieving high growth rate in maize.
The breeding activities have therefore, been re-oriented towards the development of high yielding single cross hybrids for different agro-ecological regions of the country seeing the strength of two-parent crosses for high yield and tackling the problems posed by biotic and abiotic stresses.
This has been duly supported by development of vigorous, productive and genetically diverse inbred lines that have good performance per se as well as in cross combinations. 
Focus on Inbred-hybrid technology
The major mandate of AICRP (Maize) as well as DMR is to evolve and disseminate inbred-hybrid technology. With the urbanisation, specialty corn has gained a great acceptability among the masses. Their demand in Indian market has gone up. Sweet corn and baby corn hybrids/ varieties are sought to cater to the demands of peri-urban agriculture.
Over the years 131 hybrids have been developed and released since 1961; four dozen are public-bred single cross hybrids of different maturity ( extra-early, early, medium and late) and suitable for cultivation in different agro-climatic conditions of the country (zones 1 to 5, kindly see the Fig .2).
Since 2005, as many as 23 normal, seven Quality protein maize (QPM) and one each of baby corn and sweet corn single cross hybrids have been released. The detailed information on these hybrids including pedigree, characteristic features, area of adaptation, etc, has been provided in Table 1.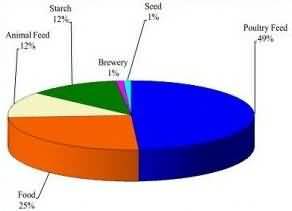 Fig.1: maize utilization pattern in India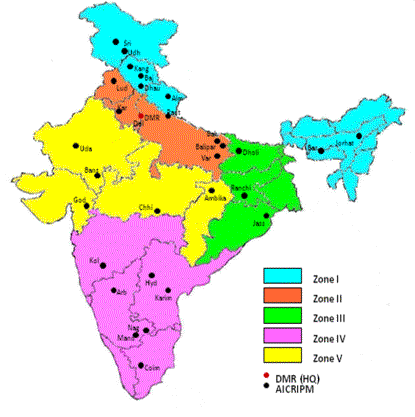 Fig.2 : AICRP on maize: centres and zones

Table 1: Hybrids Developed and Released for Cultivation in India during last three years.

Name
Pedigree
Centre / Year of release 
Area of adoption
Characteristic features

NORMAL MAIZE

DHM-117

BML 6 X BML 7

ANGRAU, Hyderabad 2010

Andhra Pradesh

Medium,orange-yellow, flint, Nutrient responsive, tolerance to lodging & stay green,avg.yield 75q/ha

DHM-111

BML 6 X BML 15

ANGRAU, Hyderabad 2010

Andhra Pradesh

Medium maturity,Yellow,semi-dent, Nutrient responsive, tolerance to lodging & stay green,avg. yield 65 q/ha

DHM-113

BML 2 X BML 7

ANGRAU, Hyderabad 2010

Andhra Pradesh

Late,orange, semi-dent, Nutrient responsive & tolerance to lodging, avg.yield 66 q/ha

HM 11

HK1-1128 X HK-163

CCS HAU, Karnal 2009

Across the country except Himalayan belt (rabi)

Late maturity, orange, flint, Responsive to higher doses of fertilizers, avg. yield 55 q/ha

HM10

HKI 193-2 X HKI 1128

CCS HAU Karnal 2008

Delhi, Punjab, Haryana and Western Uttar Pradesh, Rajasthan, Madhya Pradesh, Gujarat, Andhra Pradesh, Tamil Nadu, Maharashtra and, Karnataka,

Medium maturity, yellow, semi flint, highly responsive to inputs, resistance MLB & avg yield 72 q/ha

PMH3

LM 17 X LM 14

PAU Ludhiana 2008

Delhi, Punjab, Haryana and Western Uttar Pradesh

Late maturity, orange, flint, highly resposive to inputs & avg yield 75 q/ha

Nithya Shree

SKV-50 X NAI-105

UAS Naganahalli 2008

Karnataka (Kharif & rabi)

Late maturity,yellow-orange, semi-dent, resistant to lodging & avg yield 80 q/ha

Vivek hybrid 33

V 372 X CM 212

VPKAS Almora 2008

Jammu & Kashmir and Uttarakhand

Early maturity, yellow, dent,avg. yield 50q/ha

Vivek 23

V 351 X V 341

VPKAS Almora 2007

Hills of Uttaranchal

Early maturity, yellow, flint, bold, moderate tolerance against TLB, tall & avg yield 45 q/ha.

Maize PAU 352

LM 15 X CML 32

PAU Ludhiana 2007

Punjab, Haryana, Delhi.

Early maturity, resistance to MLB, BSDM, ESR & avg yield 35-48 q/ha

HM 8

HKI 1105 X HKI 161

CCS HAU Karnal 2007

Andhra Pradesh, Tamil Nadu,, Maharastra, Karnataka

Medium maturity, orange, flint & avg yield 50-68 q/ha

HM 9

HKI 1105 X HKI1128

CCS HAU Karnal 2007

Bihar, Jharkhand, Orissa

Medium maturity, orange, flint & avg yield 60 q/ha

Malviya Makka 2

HUZM 185 X HKI1105

BHU Varanasi 2007

East UP, Bihar, Jharkhand, Chattisgarh, West Bengal, Orissa

Medium maturity , yellow, semi flint, responsive to higher doses of fertilizers, resistance to MLB & avg yield 54 q/ha

COHM 5

UMI 285 X UMI 61

TNAU oimbatore 2007

TN under irrigated & rainfed ecology

Late maturity, semi flint, responsive to high inputs, resistance to downy mildew, moderately resistance to stem borer, avg yield 42-55q/ha

PMH-1

LM 13 X LM 14

PAU Ludhiana 2007

Irrigated areas of Punjab

Late maturity, stem is zig-zag, resistance MLB, stalk rots, avg yield 52q/ha

Vivek 21

CM 212 X V 341

VPKAS Almora 2007

Uttaranchal, HP, J & K and NEH regions, Delhi, Punjab, Haryana & western UP, Andhra Pradesh, Tamil Nadu,, Maharastra & Karnataka

Extra early maturity, yellow, semi flint, bold, , tolerance against TLB & avg yield 45-50 q/ha

Vivek 25

V 341 X V 346

VPKAS Almora 2007

Uttarakhand, HP, J&K and NEH region

Extra-early maturity, yellow, semi dent, bold, tolerance against TLB & avg yield 50-55 q/ha

Vivek 27

V 335 X V 345

VPKAS Almora 2007

Eastern UP & Bihar, Jharkhand, Orissa, Chattisgarh, & WB & Maharashtra, AP, Karnataka, & TN

Extra early maturity, yellow, semi-dent & avg yield 50-55 q/ha

PMH-2

LM 15 X LM 16

PAU Ludhiana 2006

Delhi, Haryana, Central & Western UP

Early maturity, short duration, resistance to MLB, BSDM, & PFSR

Buland

LM 11 X LM 12

PAU Ludhiana 2005

Punjab, UP, Haryana, Delhi, Tarai regions of Uttranchal.

Late maturity, resistance to TLB, Common rust, avg yield 85q/ha

HM 5

HKI 1344 X HKI 1348-6-2

CCS HAU Karnal 2005

Haryana

Medium maturity, white, dent responsive to high doses of fertilizers, medium tall, tolerance to frost & avg yield 68-72q/ha

Vivek Hybrid Maize 15

CM 152 X CM 212

VPKAS Almora 2005

J & K (Himalayan region), Andhra Pradesh, Tamil Nadu, Maharastra & Karnataka

Extra early maturity with moderate degree of tolerance against TLB & avg yield 45-50 q/ha

Vivek Hybrid Maize 17

CM 153 X CM 212

VPKAS Almora 2005

Across the country, except hill states.

Extra early maturity with moderate degree of tolerance against TLB, MLB, avg yield 40-50 q/ha

QPM (Quality Protein Maize)

HQPM4

HKI-193-2 X HKI 161

CCS HAU Karnal 2010

Across the country except Himalayan belt (rabi)

Late , yellow, semi-dent, avg. yield 60 q/ha

HQPM -7

HK1-193-1 X HKI-161

CCS HAU Karnal 2008

Andhra Pradesh, Tamil Nadu, Karnataka , Maharashtra

Late maturity, Yellow, semi-flint, Resistance to MLB, avg. yield 72q/ha

Vivek QPM - 9

VQL1 X VQL2

VPKAS Almora 2008

Jammu & Kashmir and Uttarakhand, Himachal Pradesh, Andhra Pradesh, Tamil Nadu, Karnataka , Maharashtra

Extra early maturity, yellow, dent, performed better at low N2 & avg. yield 52q/ha

HQPM 5

HKI 163 X HKI 161

CCS HAU Karnal 2007

Across the country

Late maturity, orange, flint, responsive to higher doses of fertilizers, resistance to MLB & chilo partellus & avg yield > 58 q/ha

Shaktiman 3

CML 161 X CML 163

RAU Dholi 2006

Bihar

Late maturity, orange-yellow, semi flint, tall, QPM hybrid with 0.73% tryptophan in protein, fair tolerance against MLB, LSM

Shaktiman 4

CML 161 X CML 169

RAU Dholi 2006

Bihar

Semi flint, QPM hybrid 0.930 tryptophan in protein, , resistance against MLB.

HQPM 1

HKI 193-1 X HKI 163

CCS HAU Karnal 2005

Across the country

Late maturity, yellow, dent, responsive to higher doses of fertilizers, tolerance to frost/ cold, resistance to MLB and common rust & average yield 62 q/ha

Baby corn

HM 4

HKI 1105 X HKI 323

CCS HAU Karnal 2005

Haryana, Delhi, Punjab, & Eastern UP

Baby corn, medium maturity, orange, flint, medium tall, , tolerance to frost & cold & avg. yield 60-68 q/ha

SWEET CORN

HSC1

HKI1831 X HKISC1

CCS HAU Karnal 2010

J&K, Uttarakhand

Medium, light yellow, Brix value >23 %, Avg. green ear yield 120 q/ha
---
Authors:
J. Kaul, R. Sai kumar and Sain Dass
Directorate of Maize research, Pusa Campus, New Delhi 110 012
Email:

This email address is being protected from spambots. You need JavaScript enabled to view it.