रेशमकीट इरी के मेजबान सार्वकालिक पौधे केसेरू की खेती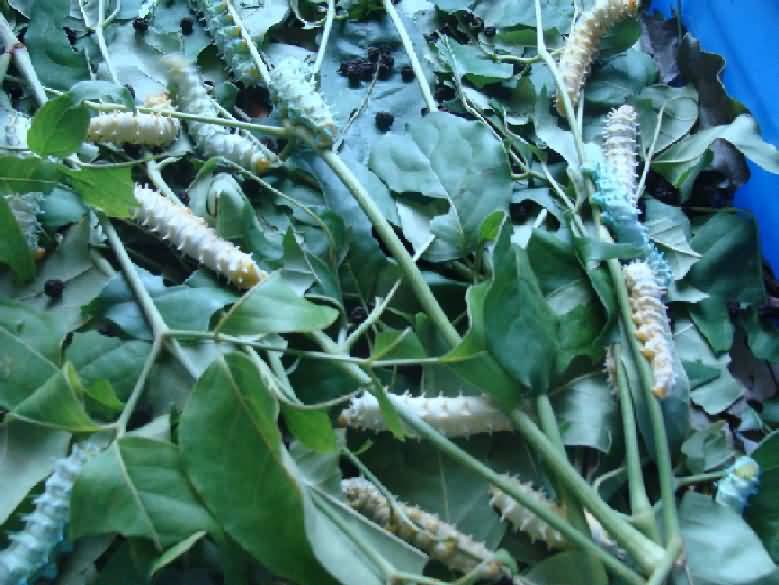 Ericulture contributes significantly Indian commercial silk production which is mostly confined to north-eastern part of the country i.e. Assam, Meghalaya, Manipur, Nagaland, Arunachal Pradesh and Mizoram. A small quantity of eri cultivation has been extended to Bihar, West Bengal, Orissa, Jharkhand, Chattisgarh, Andhra Pradesh, Uttarakhand and Uttar Pradesh. In addition, Ericulture is practiced in China, Brazil, Russia, Thailand, Philippines, Indonesia, Malaysia, Bolivia, Ethiopia, French, Egypt, Italy etc.
Eri silkworm feeds primarily on castor leaves, but sufficient castor leaves are not available throughout the years for commercial rearing. Therefore, Kesseru (Heteropanax fragrans Seem) is used as an alternative food plant during the scarcity of castor leaves. Depending upon food preference and rearing performance of both wild and cultivated silk worms, Kesseru ranks next to castor.
Kesseru (Heteropanax fragrans) belongs to the family Araliaceae and it is soft wooded perennial tree grown in plain as well as hilly tracts of northeastern India. Since, it is a perennial plant, the cost of cultivation and leaf yield potentiality is better than Castor. The productive life of Kesseru is more than 25 years and annual leaf yield per hectare is found almost 20-25 MT from a properly maintained farm. Moreover, Kesseru plant is less susceptible to disease and pests in comparison to Castor. Kesseru feed silkworm produce small cocoons but they are compact with strong fiber. Therefore, systematic Kesseru plantation is recommended and popularized among the farmers for large scale commercial eri silkworm rearing.
KESSERU CULTIVATION
Propagation:
Kesseru is commonly propagated from seedlings by collecting seeds from wild grown or cultivated plantation. However, it is desirable to grow seedlings after collection of seeds from full grown and healthy plants. The seeds loss their viability soon after maturity and delayed in the seed sowing results poor germination. Kesseru seeds are initially sown in nursery beds or in poly bags and transplanted later to the field for raising systematic plantation.
Nursery Techniques
Land selection and preparation of nursery beds:
Flat, elevated and well drained land in shady place should be selected for preparation of nursery beds. Generally Kesseru seed mature during February-March and it is necessary to prepare nursery beds beforehand. Land should be ploughed repeatedly to get a fine tilt, remove the weeds and exposed sufficiently to sunshine. Mix sand with the soil, level it and raise the bed 15-20 cm with a bed size (6m X 2m) to accommodate 800 seeds per beds. The top soil of each bed is mixed with 6 cft well decomposed FYM and 50g Malathion dust. The beds are covered with dry thatch or straw for more than two weeks before sowing seeds to check weed growth.
Seed Collection:
Kesseru plant starts flowering from mid of October and continues till end of January. Fruits start ripening during February and March and the green pericraps turn into grey to black and become delicious for birds. The ripe Kesseru fruits need to be covered with nylon net to protect from birds. The mature fruits collected for seed processing are soaked overnight in water and in the next morning they are to be rubbed with a gunny cloth to remove the pericraps of the seeds. Wash 2 to 3 times in water and select the healthy/viable seeds for sowing through water floating test.
The healthy seeds should be treated with Indofil M-45 or Bavistin @ 3 gm per kg of seeds to control fungal infection.
Seed Sowing of Kesseru
The ideal season for seed sowing is February to March. Soaking of the seeds in water for 20 hours prior to sowing, results maximum germination. Seeds are sown in 2.5 cm deep and 10 cm apart in rows made at a distance of 15 cm. After sowing, the seed beds are covered with thin layer of dry paddy straw or hays to retain moisture and to enhance seed germination.
Maintenance of Nursery:
Germination takes place after 16-18 days of sowing. Sprinkling of water is necessary immediately after sowing which should be continued at 3-4 days interval for healthy growth of seedlings. Seedlings can be protected from rain/hailstorm by providing shed. Transplant the 3-4 months old seedling in polythene tubes filled with soil, sand and FYM (Field yard manure) in 1:1:1 ratio. Routine manuring, weeding and spraying of fungicides (0.05 % Bavistin), insecticides (0.01 % Rogor) on seedlings should be conducted to protect from disease and pests.
Land preparation and transplantation
Kesseru grows well in acidic soil. Sloppy as well as flat high land with proper drainage system is better. Young seedlings cannot withstand heavy rainfall and hence September to October is good season for transplantation and establishment of seedlings.
Land preparation should during March to April by ploughing of land to a depth of 20-35 cm followed by leveling is recommended. The weeds should be removed and allow the soil dry sufficiently. Soil erosion on hilly areas can be prevented by terracing or raising bunds. Drains are to be made to avoid water stagnation during rainy season. Pits of 30x30x30 cm size are to be prepared at 3m x 3m spacing to facilitate intercropping. Mix 5 kg well decomposed FYM and 10 gm of 0.065 % Hexalon for each pit. The entire work should be completed at least one week before plantation.
Transplant 14-15 months old seedlings of 25-30 cm height into pits and preferably during cloudy weather or in the afternoon. Transport seedlings carefully to avoid damages of root system. Shading and watering is required for better survival and erect fencing to protect plantation from cattle.
Manuring
Apply 5 kg FYM per plant once in a year during April and NPK @ 125:75:25 kg/ha in two split dose annually during April and September i.e. Urea-250 gm, SSP-450 gm and MOP-40 gm per plant per dose.
Pollarding and Pruning
Pollard Kesseru plants at 1.50 m height after 4-5 years to induce more branching and conduct subsequent Pruning at 1.75 m height. Prune side branches 15-20 cm above last pruning ends. Step up and step down pruning should be conducted at every three years intervals during February.
Maintenance of plantation
Regular cultural operations like hoeing and weeding are to be carried out as and when required. Young plants are to be subjected for watering during December to April and loosen the soil for providing aeration to the root system. Spray Glyphosate (41%) @ 1.6 litre/180 litre water to control weeds like thatch grass. Raising Castor or intercropping agricultural crops between Kesseru plants during gestation period supports additional income to farmers.
Harvesting
Leaves can be harvested 3 times/year and per plant yield 6-7 kg of leaves per harvest.
| | | | |
| --- | --- | --- | --- |
| Harvest | Month | Leaf yield/plant (Kg) | Leaf yield/acre (Kg) |
| 1st harvest | May-Jun | 6 | 2700 |
| 2nd harvest | Aug-Sep | 6 | 2700 |
| 3rd harvest | Dec-Jan | 4 | 1800 |
| Total | - | 16 | 7200 |
Disease and Pest Management of Kesseru
Kesseru plants are less susceptible to disease and pests attack. However, attack of termite is found in hilly region. A beetle pest, which is nocturnal in habit, sometimes damages young leaves of Kesseru Plants.
| | | |
| --- | --- | --- |
| Disease | Symptoms | Control measures |
| Root rot | Roots of young plants affected and plants die | Apply Dithane M-45 @ 1gm per plant twice/yr. along with application of NPK. |
| Stem rot | Rotting of stem and barks of young plants and affected plants die. | Apply 1% solution of Dithane M-45/ Bavistin at base of affected plants by digging soil. Mixing of fungicide along with NPK application is also effective. |
| Pest | Nature of Damage | Control measures |
| Leaf roller | Larvae secrete gummy substance & roll adjacent leaves of both tender and coarser leaves. Incidence common during winter. | Plucking of affected leaves |
| Termites | Damages both root, basal trunk & ultimately plants die. | Application of lime & dusting of 5% Aldrin effective in controlling white ants. |
| Aphids | Both adult & nymphs suck sap, young buds affecting sprouting of young leaves | Spraying of 0.2% Rogor or 0.05% Dimecron or 0.07 % Nuvan to control the pest |
| Beetles | Brown, coleopteran beetle, damages leaf & buds of young plants at night | Use of light Trap / adhesives, mechanical control |
Work calendar for Kesseru cultivation
| | |
| --- | --- |
| Activity | Time Schedule |
| 1st Year |   |
| Land preparation, pit digging and FYM application | March-April |
| Transplantation of Seedling | May-June |
| Hoeing and Weeding | September-October |
| 2nd Year onward |   |
| Weeding and making rings for fertilizer/manure application | March |
| Application of 1st dose of fertilizer/manure | April |
| Hoeing and weeding | September |
| Making rings for 2nd dose fertilizer application | September |
| Application of 2nd dose of NPK | October |
---
Authors:
D K Gogoi1, R Singh1, P Dutta1, P Sonowal1 and B B Singha2
1 Central Muga Eri Research & Training Institute, Central Silk Board, Lahdoigarh, Jorhat-785700, Assam
2 Regional Eri Research Station, Central Silk Board, Mendipathar-794112, Meghalaya
E-mail:

This email address is being protected from spambots. You need JavaScript enabled to view it.