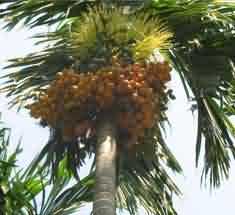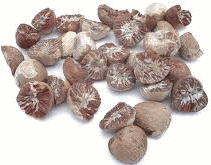 Arecanut (सुपारी) or betelnut (Areca catechu L.,) is an important cash crop in the Western Ghats, Eastern Ghats, East and North Eastern regions of India. Areca plant is a tall-stemmed erect palm, reaching varied heights, depending upon the environmental conditions. Palms attaining a height of 30 meters are not uncommon which poses problems for harvesting of nuts. Arecanut is an important component of the religious, social and cultural celebrations and economic life of people in India. Arecanut is also used in ayurvedic and veterinary medicines. The habit of chewing arecanut is typical of the Indian subcontinent and its neighborhood. Although, production of arecanut is localized in a few states, the commercial product is widely distributed all over the country. There are mainly two types of processing of arecanut, viz., chali (ripe sun dried nuts) and red boiled type (tender or mature nuts). Chali is mainly produced in Dakshina Kannada and parts of Uttara Kannada districts. Chali is used in the preparation of scented supari and is greatly demanded in Northern India. Different types of red boiled nuts are prepared in other parts of the state to meet market demand. About 20 per cent of total areca production in the country is consumed as ripe fruit.
Arecanut is processed into pan-masala, gutka, scented supari etc., which are getting more popular in the country. There are over 150 trade types of arecanut, differing in maturity, processing conditions and taste characteristics as per market requirements at different trade centers of the country. The drying of unhusked ripe nuts for making chali supari requires up to 45 to 60 days of good sun-shine, so as to reduce moisture level to about 10 per cent. An important by-product of the arecanut industry is the husk of nuts which can be utilized for making particle boards, paper etc. 'Chogaru', a by-product obtained from the processing of tender nuts is rich in tannins, used in leather industry for converting hides into skins.
1. Importance of Arecanut
India is traditionally an areca growing country; the India-Pakistan partition in 1947 led to India losing nearly 50 per cent of arecanut area to Pakistan. In the early fifties, the internal demand for arecanut went up and had to be made good by way of imports. The government of India decided to encourage large scale arecanut cultivation in India and institutional finance was provided through co-operatives and scheduled banks with an intention of harnessing the potential of arecanut cultivation as well as to avoid foreign exchange drain. Consequently, the production steadily increased and import was stopped. The emergence of new products such as pan masala and gutkha further gave a fillip to demand for arecanut and has resulted in remunerative prices for farmers leading to rapid expansion in area, not only in traditional belts, but also to non-traditional plains of Karnataka.
2. Global Scenario of Arecanut
Production of arecanut in the world was about 10.33 lakh tones from an area of 8.29 lakh hectares in 2009-10. India ranks first in terms of both area (47%) and production (47%) of arecanut. The other countries which produce arecanut in the world are Bangladesh (21% in area and 9% in production), China (6% in area and 20% in production) and Indonesia (16% in area and 6% production). It is also cultivated in Myanmar and Thailand on a smaller scale. The world productivity of arecanut stood at 1.21 tonnes/ha. Indian productivity is also on par with the world productivity (1.27 tonnes/ha), (DGCI&S, Kolkata).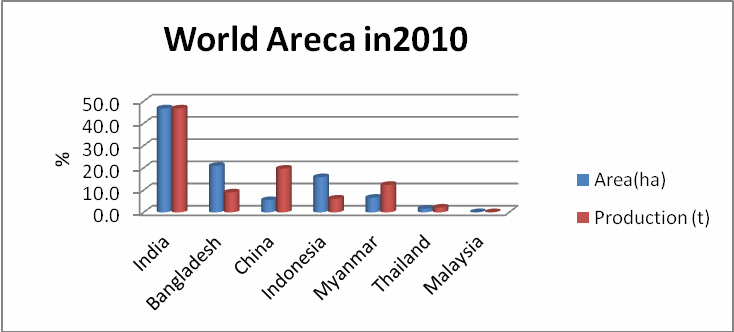 Area and Production Shares of Major Global Producers
Major expansion in global areacanut area took place in the eighties. Thailand, China, Bangladesh made remarkable strides in areacanut area. The area under areacanut in Bangladesh increased from 36668 ha during 1980 triennium ending to 176120 ha in 2010 triennium ending period.
 World Productivity of Arecanut
China stood first with a productivity of 4164.76 kg/ha, followed by Myanmar occupying second position with a productivity of 2264.15 kg/ha and Thailand. Even though India stands first in global production of arecanut, is ranked 4th in terms of productivity, followed by Malaysia, Bangladesh and Indonesia in 5th, 6th and 7th positions.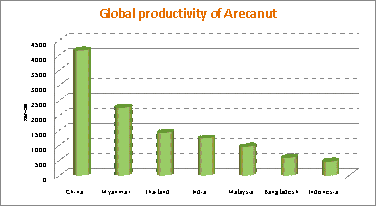 Arecanut Productivity in Major Producing Countries
3. Indian Scenario
India is the major producer and consumer of arecanut in the world. Production is concentrated in six states, namely Karnataka, Kerala, Assam, Meghalaya, Tamil Nadu and West Bengal. Arecanut is the major plantation crop of coastal and southern districts of the country under assured irrigation facility. The ever increasing demand for areca products like paan, supari and gutkha has led to continuous increase in arecanut prices worldwide. The processing methods, maturity and consumer preferences influence the types of arecanut products prepared. Area and production shares show that Karnataka leads with 46 per cent of area and 47 per cent of production, followed by Kerala with 24 and 23 per cent, respectively.  Assam, West Bengal and Meghalaya are of minor importance in terms of area and production shares during 2010.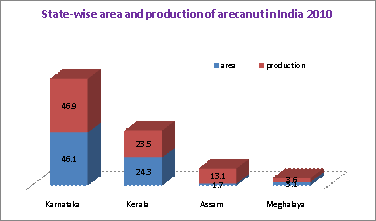 Area and Production Shares of Major Arecanut Producing States in India
Arecanut is mainly grown in the states of Karnataka, Kerala and Assam. Among these, Karnataka and Kerala account for about 70 per cent of the country's production. Tamil Nadu, Maharashtra, A.P., West Bengal and Odisha are the other important producing states which have expanded arecanut cultivation in the recent past. The relative area share of Karnataka has increased from 30 to 50 per cent between triennium ending periods of 1980 and 2010. Kerala and Assam marginally lost their relative shares between the two periods under study, although in real terms the area has expanded in all these states.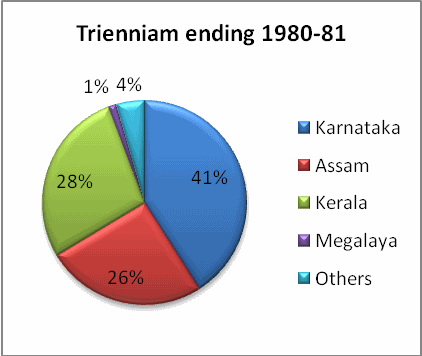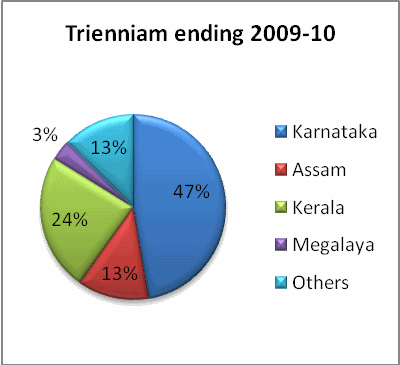 Source: Indiastat.com
Shifts in Relative Shares of Arecanut Production
In terms of production also, Karnataka stood 1st for the triennium ending periods of 1980 and 2010 contributing over 40 per cent to country's production. The relative shares increased by six per cent between these two periods. While Meghalaya's relative production share increased by two percent, both Kerala and Assam have shown decline in their relative production shares.
 4. Karnataka  Scenario
Karnataka is the largest producer of arecanut in India covering about 180.7 thousand hectares with a production of 269.2 thousand tonnes constituting about 45.8 per cent of total area and 51.3 per cent of total production in the country in 2009-10. The area under arecanut in Karnataka has almost doubled during the last 15 years.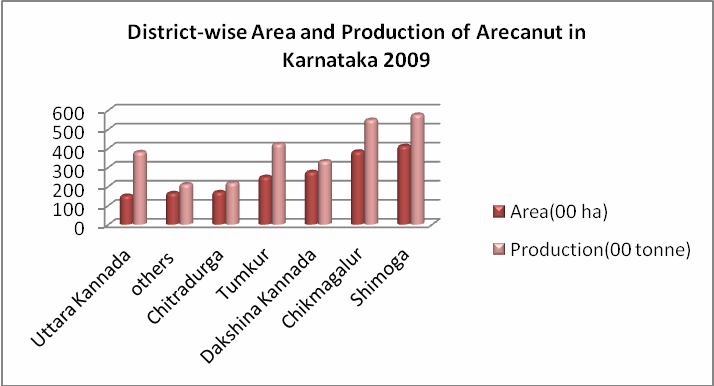 Source: DES, Karnataka 2009
Area and Production Shares of Major Producing Districts in Karnataka
The districts of Shimoga, Chikmagalur, Tumkur Uttara Kannada and Dakshina Kannada are the major arecanut producers of Karnataka which together account for 60 per cent of the area and 65 per cent of production in the state. Shimoga ranks first in area and production (23% and 21%, respectively) followed by Chikmagalur (21% and 20% respectively), Dakshina Kannada (15% and 12%, respectively) and Uttara Kannada (8% and 14%, respectively),
District-wise Arecanut Productivity in Karnataka State
Among the major arecanut producers, Uttara Kannada stands first with a productivity of 2516 kg/ha, followed by Tumkur occupying second position with 1692 kg/ha, Chikmagalur is in third position with 1436 kg/ha, on the other hand Dakshina Kannada stands seventh with 1203 kg/ha.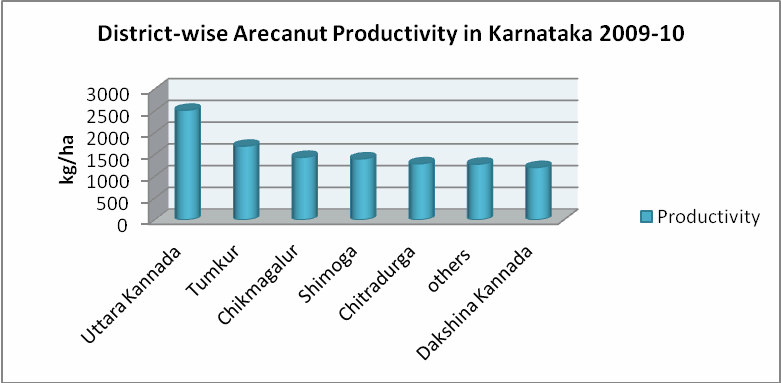 District-wise Arecanut Productivity in Karnataka
5. Agronomy
Soil: Arecanut is essentially a plantation crop grown in clay loamy soils under tank command. The pH of the soil should be slightly acidic to neutral. Lime ought to be added if the soil pH goes below 5.0.
Altitude: The altitude at which areca palm grows depends to some extent on the latitude. In the northeastern regions (Assam, West Bengal) it is grown on the plains because at higher elevation the winter temperature will have adverse effect on plant growth. Though the palm can be cultivated up to 1000 m above sea level, the quality of nuts at higher altitude is not good.
Agro-climate: Arecanut flourishes well in tracts with high rainfall such as Malnad of Karnataka (=4500 mm) as well as the low rainfall areas like the plains of Karnataka (=750 mm). In areas where there is prolonged dry spell, the palm requires supplementary irrigation.
Temperature: Arecanut grows in areas with a wide range of temperature, from a minimum of 4°C (e.g. Mohitnagar, West Bengal) to maximum of 40°C (Vittal in Karnataka & Kannara in Kerala). However, the palm flourishes well in temperature ranges of 25 to 35°C. Diurnal fluctuations of temperatures of over 5°C with low humidity can cause severe foliage damage.
Relative Humidity: Range of humidity from 70 to 95% is found ideal for areca growth.
Harvesting: The pre-bearing age of palms ranges between 5 to 8 years. Though inflorescence initiation has been observed in every leaf axel, only about 5 per cent results in seed set. The colour of pericarp of fruit changes during its growth from green to shades of yellow and upon ripening it turns red. Tender nuts are harvested from July to December and ripe nuts from December to March or from May to July. Three or four plucking/ harvests are required during the whole season.
Harvesting and Processing
Harvesting of nuts at right maturity is important for obtaining good quality produce. White chali is prepared by sun drying of ripe nuts for 40-45 days. Proper drying of nuts prevents fungal contamination or quality deterioration.  If the requirement of the market is tender processed nuts, then harvesting green fruits at an appropriate stage of about 6 months maturity is essential.
Types of Arecanut Processing
There are mainly two types of processing of arecanut, viz., chali (ripe sun dried nuts) and red boiled type (tender or mature nuts). Chali is mainly produced in Dakshina Kannada and parts of Uttara Kannada districts. Chali is used in the preparation of scented supari and is greatly demanded in Northern India. Different types of red boiled nuts are prepared in other parts of the state to meet market demand. About 20 per cent of total areca production in the country is consumed as ripe fruit.
Cost of Cultivation
Areca palm is a perennial plant with a pre-bearing age of 6-8 years and economic bearing period of more than 30 years. The investment in establishing areca garden for two major producing regions viz., Shimoga and Dakshina Kannada are computed(table 6).Knowledge of price behavior and production cost estimation is important for formulating market intervention policies and programs. The per hectare cost of cultivation is computed separately for red boiled and white chali types of areca nut. Both fixed and variable costs are considered for estimating per hectare cost of cultivation. The averagecost of production for red boiled and white chali types of arecanut is computed. Normally 14 to 20 per cent of the fresh nuts weight is recovered after processing. In Shimoga district red boiled type of arecanut is prepared, while white chali type is prepared in Dakshina Kannada region. The benefit cost ratio of more than one reflects the profitability of areca production.
Karnataka, Tamil Nadu, and Goa have established regulated markets for arecanut marketing. In Karnataka, Kerala and Tamil Nadu, more than 30 percent of the marketable surplus is dealt by co-operative societies. There are more than 16 major co-operative marketing societies handling arecanut in Karnataka (CAMCO). However, there are no exclusive markets for the sale of arecanut in the country.
The cost of cultivation of red boiled and white chali type is reported in table 6. The total operational cost amounted to Rs.156.89 thousand per hectare for red boiled type in traditional region while in non-traditional region it worked out to Rs.202.85 thousand. The operational costs accounted for over 65 per cent of total expenses. The total cultivation cost including amortized establishment cost amounted to Rs.225 thousand in traditional area, while the non-traditional required Rs.302 thousand. Thus, expansion of Arecanut to non-traditional area would increase cultivation expenses.
The major cost difference between red boiled and white chali was the expenses on processing cost. It could be noted that processing cost for preparing red boiled type of arecanut from one hectare was around Rs.36000, while white chali cost Rs. 8630. 
 Break-up of Cost of Cultivation of Arecanut in Karnataka 
(2008-2010) (Rs/ha)
Items

                              Red Boiled Type

White Chali Type

Region

Traditional region (2009-2010)

Non-traditional Region (2008-2009)

Traditional region (2009-2010)

 

Rs.

%

Rs.

%

Rs.

%

l. Total Operational Cost

 156895

69.45

202847

66.95

157203

69.72

A. Labor Costs     

 

 

 

 

 

 

I. Casual               

29975

13.27

48612

16.05

52428

23.25

2.Family               

7544

3.34

12073

3.98

11816

5.24

3.Attached labor

4398

1.95

6676

2.20

5625

2.49

Subtotal

41917

18.56

67361

22.23

69868

30.99

B. Input Costs

 

 

 

 

 

 

I. Pesticides

7487

3.31

2464

0.81

6374

2.83

2.FYM

19334

8.56

26846

8.86

28882

12.81

3.Red earth

10152

4.49

4480

1.48

3805

1.69

4.Fertilizers

9869

4.37

9177

3.03

9207

4.08

Subtotal

46842

20.74

42967

14.18

48268

21.41

C. Maintenance Costs

 

 

 

 

 

 

I.Va1ue of the bags/baskets

4685

2.07

5671

1.87

1912

0.85

2.Machine upkeep cost

5056

2.24

14070

4.64

6983

3.10

3.Electricity charges

2176

0.96

9141

3.02

4861

2.16

4.Gap filling

 

1212

0.54

2829

0.93

904

Subtotal

13127

5.81

31711

10.47

14659

6.50

D. Processing costs

 

 

 

 

 

 

I. Processing and dehusking

24507

10.85

25340

8.36

5382

2.39

2.Cost of materials

8615

3.81

6877

2.27

636

0.28

3.Grading and gunny bags

2538

1.12

2356

0.78

1725

0.77

4.Food &refreshment

1291

0.57

1884

0.62

887

0.39

Subtotal

36951

16.36

36457

12.03

8630

3.83

E. Marketing costs

 

 

 

 

 

 

1. Tranportation charges

2487

1.10

3328

1.10

1362

0.60

2.Labour charges

1993

0.88

3680

1.21

1201

0.53

subtotal

4480

1.98

7008

2.31

2563

1.14

Total working capital

135773

60.10

173431

57.24

132171

58.62

F. Interest on Working Capital (@IO%)

13578

6.01

17343

5.72

13217

5.86

G.Total Fixed Cost

69004

30.55

100116

33.05

68272

30.28

A. Rental value of owned land

10,557

4.67

10,917

3.60

10,000

4.44

B. Land revenue cusses &

taxes     

134

0.06

162

0.05

143

0.06

C. Depreciation on farm

implements &building

10,204

4.52

15,820

5.22

10,190

4.52

D. Interest on fixed capital

@12%)

15,637

6.92

25,710

8.49

16,181

7.18

E. Amortized establishment cost

32,472

14.37

47,508

15.68

31,759

14.09

III. Total Cost of Cultivation

2,25,898

100.00

3,02,963

100.00

2,25,475

100.00
Source: Report of Special Scheme on Cost of Cultivation of Arecanut in Karnataka, UAS. Bangalore-6
The cost of cultivation according to farm management cost concept reveals that the per quintal of red-boiled type costs Rs.11,558 in traditional area and the same in non- traditional area would be Rs.15381, on the other hand white chali worked out to Rs. 10123. The yield of white chali is slightly higher (24.5q/ha) compared to red boiled type (21.59q/ha).
6. Marketing
Arecanut is a notified commodity in about 32 regulated markets of Karnataka. There are more than 15 co-operative marketing societies handling arecanut in this state. The co-operative societies have been fairly successful in their functioning and about 30 per cent of the marketable surplus in the state being handled by them. All these co-operatives are functioning as the agencies of CAMPCO (Cocoa and Arecanut Marketing and Processing Co-operative) Ltd., Mangalore. Shimoga is a major market for the red boiled type of arecanut in the country.

Assembling of Nuts: The prevalence of long chain of intermediaries on the one hand and ignorance of growers on the other are the main difficulties in arecanut marketing. Growers generally are not aware of commercial grades, moreover, they presume it is not economical to grade when marketed surplus is less. Therefore, producers sell arecanut in the primary market after traditional grading. Labour shortages for processing nuts have led producers to sell in the form of immature unhusked, sundried ripe nuts, boiled and dried nuts, (with or without grading) and outright sale of crops (crop contracting). Therefore, further processing, which needs expert handling is undertaken by assemblers.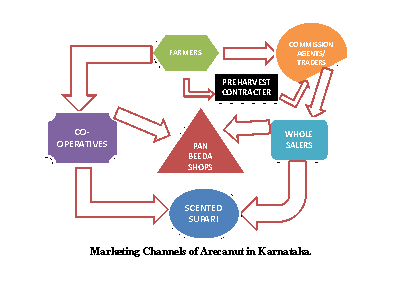 7. SWOT Analysis
Arecanut being aperennial plantation crop characterized by heavy investment and long gestation period is faced with many challenges at various stages of production until marketing. Delineation of major strengths and weakness inherent in the industry and opportunities available for expanding demand or supply would help in identifying critical areas to plug the gap.   
 SWOT Analysis for Arecanut Sector
| | | | |
| --- | --- | --- | --- |
| Strengths | Weaknesses | Opportunities | Threats |
| Can be stored for long period without quality deterioration | Expanding cultivation to nontraditional areca area may lead to new disease and pest problems | Expanding exports to new markets | Cheap imports from neighboring Asian countries. |
| Presence of alkaloids and tannins which have industrial application | Not large scale research initiatives on alternative uses | Developing value added products which have industrial application | High cost of arecanut may discourage its use in value added products |
| Large and growing young consumer base | Non availability of skilled laboures and slow mechanization | Developing food/ nutritional supplements | Health hazards of areca based products consumption; ban imposed on Gutkha |
|  Can be grown in different agro ecological regions | Shifting area from food-grains production to arecanut | Intensive cultivation and adoption of resource saving technologies | Traditional pan chewing habit is slowly disappearing in the society |
---
Research Team:
Dr. C.P.Gracy, CCPI, N.Nagashree, SRF, Akshata Nayak, SRF, K.Girisha,  SRF
Dept. of AGMACO & BM, GKVK Campus,
UAS-B Bangalore-560065