अगेती सीताफल (कद्दू) उगानें की उन्‍नत तकनीक
Pumpkin (Shitaphal) is a very useful crop in the cucurbit class vegetables. Its cultivation in India has been going on since very old times. Its fruits are used for vegetable in both ripe and raw forms, vegetable and some sweets are also made from its green fruits and ripe fruits. Ripe pumpkin is yellow in color and is rich source of carotene.
Its soft leaves and stem facade and flowers are also used as vegetables. Ripe fruits can be stored for several months at normal temperatures. It is also called tonic of the brain.
Pumpkin controls blood pressure and also increases digestive power. It is rich in carbohydrates, calcium, magnesium and sodium. It is cultivated prominently in Uttar Pradesh, Bihar, West Bengal, Odisha, Assam, Kerala, Gujarat and Tamil Nadu.
Climate
Areas with warm climate are good for pumpkin cultivation. Both temperate and sub-tropical climates are suitable for its cultivation. Temperature of 180 to 300 C is good for seed germination and growth of plants.
It can also be cultivated in Diara land along the river. The number of male flowers increases due to high temperature and long day. Therefore, the yield is better in rainy season than summer.
Land and it spreparation
Sandy or loam soil with good drainage and rich in organic matter with pH 5.5 to 6.8 is best for pumpkin cultivation. However, it can be grown successfully even in moderately acid land.
For the preparation of the field, first plowing should be done by turning plough and later two to three plowing with either deshi plough or cultivator.The soil should be browned and leveled so that irrigation in the field can be easily done.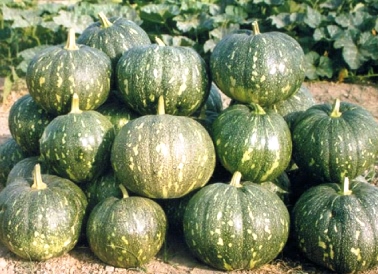 Improved varieties
Pusa Biswas: The fruit of this type variety has an average size of 5 kg. The fruit pulp is golden yellow in color and can be easily stored for up to 4 months. This variety is ready in about 120 days and its average yield is 400 quintals per hectare.
Kashi Harit: Its fruit is green, flattened round and average weight is 3.5 kg. An average of four to five fruits can be obtained from a plant. It is an early variety of pumpkin which starts flowering within 50 to 60 days of sowing. The average production of this variety can easily be achieved up to 400 quintals per hectare.
Narendra Abhoshan (NDPH-1): It bears near round, dark green striped and highly attractive fruits. The fruits have thick flesh and deep orange colour at maturity.
The fruits produce highly palatable cocked vegetable. An early prolific bearer with a yield potential of about 700 q/ha in mid-February sown summer crop.
Narendra Agrim: Narendra Agrim is a short vined, very early variety of pumpkin. Suitable for February-March sown summer crop. First picking is done within 55-60 days after sowing. The fruits are small, round and stripe-less dark green.
The fruit yield ranges from 300-400 q/ha. It exhibit tolerance to pumpkin mosaic virus in February sown summer crop.
Narendra Amrit: Narendra Amrit is a medium maturing variety of pumpkin, which gives its first picking within 65 days in summer. The green fruits are near-round in shape and light-green-mottled in colour. Fruits have papery skin, 6-7 cm. thick flesh and small seed cavity.
Green and mature fruits possess negligible level of peculiar odour of common pumpkin varieties, therefore, they are good for highly palatable vegetable preparations. Fruits can be used to prepare quality Halwa and Barfi. Narendra Amrit is tolerant to pumpkin mosaic virus. Its average yield is 330 q/ha.
Other varieties: Punjab Samrat, KalyanpurKaddu-1, Suryamukhi, Arka Chandan, and Pusa Sankar-1 Kaddu varieties also give good yield.
Sowing Time of Pumpkin
For the early summer crop, sowing of pumpkin seeds is done in polythene bags or different types of seed plates in the months of December to January in the poly house or low tunnel.  In low tunnel plants get proper temperature for seed germination and plant can grow properly for plantation till 15 February.
The sowing is done in the summer season from February 15 to 20 February in plains and in Hilly areas in March - April.
Quantity of seed and spacing
For the one hectare area5-6 kg of seed is sufficient for pumpkin crop.
For the summer crop, the distance from the row to row is 2.5 meters and plant to plant is 0.60 meters. At the time of sowing the seeds should be sown in depth of  2 cm.
Manure and fertilizer
To obtain quality yield with quantity,250 to 300 quintals of well rotten cow dung should be mixed well in the field 15 to 20 days before sowing at the time of last ploughing. Along with this, 80-90 kg of nitrogen, 80 kg of phosphorus and 40-50 kg of potash should be given as ingredients.
Half the amount of nitrogen full dose of phosphorus and potash are added to the soil at the time of field preparation and rest half amount of nitrogen should be given in two split as top dressing. It is effective to give 3 to 4 leaves for the first time on the plant and secondly when giving flowers.
Irrigation and weed control
Irrigation is done at an interval of 8-10 days in Zaidseason. The crop should be free from weeds in summer season. Light weeding should be done 3-4 times in crop. Due to deep weeding, there is a fear of cutting the roots of plants.
Pest and disease control
Red Pumpkin Beetle
The trunk of this insect is found inside the ground. Its nymph and adult attack on the juvenile plant and damage the leaves. These pests are more active in the month of January to March.
Four to five leaves are best suitable condition for the attack of this insect. Due to excess attack, the plant becomes leafless, due to which photosynthesis does not occur and the plants become weak and die at later stage.
Prevention
To control this pest, spray diclorovas 76 EC (1.25 ml per liter) or dichloropiran 50 cc (1 ml per liter) immediately and again after 10 days of spray.
Fruit fly
This fly makes holes in the fruit and lays eggs there. larvae comes out from the eggs and it makes the fruit useless. This fly especially hurts the Kharif crop which spoils our crop.
Prevention
Metacistox or Rogar should be sprayed with 0.1-0.2 % or spraying of Dichlorovas 76 EC (1.25 ml per liter).
White Grub
This insect causes considerable damage to the pumpkin plants. They live inside the soil and eat the roots of the plants, due to which the plants become dry.
Prevention
To prevent this, use neem manure in the field.
Powdery mildew
This disease is caused by fungus. At the beginning of this disease, small circular spots appear on the lower surface of the leaf in white color. When there is more infestation of the disease, the spots spread together on the upper surface of the leaf, the stem and the stalk, and the leaves turn brown and shrink.
Prevention
To control this disease, spray Carbendazim (0.1% solution) within 10 days or spray 6 g of Carathane in 10 liters of water.
Mild pubescent mildew
It is caused by fungus called Pseudoperonosporacubensis.Oblong spots present on lower surface of leaves which are yellow or reddish brown from above and purple color spots are seen on lower surface of leaves. Leaves fall when there is more infestation.
Prevention
Spraying of carbendazim (0.1 %) for the control of this disease. Three sprays of (0.3% solution) or 5 sprays of 0.2% solution of Dithane M-45 should be done at 10-day intervals.
Mosaic
It is a viral disease spread by aphids or white fly. Due to its infestation, the growth of leaves stops and they become twisted, the fruits become small due to which the yield declines.
Prevention
Phosphomidon (0.05 %) solution should be sprayed at 10 days interval.
Harvesting
The harvesting of pumpkin fruits depends on market demand. Generally, 75-90 days after sowing, the green fruits are ready for harvesting. The fruit should be separated with a sharp knife.
Yield
The yield vary from variety to variety. The average yield is generally 250 to 300 quintals per hectare.
---
Authors:
Mahendra Kumar Yadav1, Dr. D. P. Singh, Nishakant Maurya2, Bankey Lal1
1Department of Vegetable Science, CSAUAT, Kanpur (U. P.)
2 Department of Vegetable Science, ANDUAT, Kumarganj, Ayodhya (U.P.)
Email: This email address is being protected from spambots. You need JavaScript enabled to view it.