बीज गार्डन के माध्यम से ऑयल पाम की गुणवत्ता वाली रोपण सामग्री
Oil palm (Elaeis guineensis Jacq.) cultivation has been expanded rapidly in recent years and is now second only to soybean as a major source of the world supply of oils and fats. It is the highest edible oil yielding crop yielding up to 5-6 tonnes of mesocarp oil (Crude Palm Oil, CPO) and 0.4 to 0.6 MT of palm kernel oil (PKO) per ha per year which is much higher (5-8 times) than that of any major oil producing crop.
This crop offers viable solution for the ever increasing shortage of vegetable oils in the country and in saving valuable foreign exchange (approx 70,000 crores during 2012-13) being incurred annually for import of edible oils.
Palmolein, the liquid fraction of RBD (Refined, Bleached and deodourized) palm oil is commonly used for cooking at home, in fast food restaurants, and also in snack foods and instant noodles manufacture. Palm oil and its fractions are also used in production of margarine, bakery and frying shortenings, vanaspati, confectionery fats, ice creams and as a replacement for butter fat in some dairy products.
Palm oil is particularly suitable for deep frying because it is relatively stable at high temperature, compared with the more unsaturated oils. Palm kernel oil is used for simulated dairy products, like coffee whiteners. Hydrogenated palm kernel oil and palm kernel stearin are used in whipped toppings, and in toffee and caramel.
A variety of different palm kernel oil derivatives is used in chocolate flavoured coatings. About 10 per cent of palm oil is used for non-food products like oleo-chemicals, biodiesel, etc. The oleo-chemicals are used for the production of candles, cosmetic products, soaps, pharmaceuticals, textile and in rubber/plastic processing.
Oil palm is considered as one of the best options for bio-energy production in different agro-ecological conditions as the plantation  is maintained for 35 years  without tillage, which adds to soil fertility and  provide  permanent coverage by avoiding the direct impact of heavy rains that cause erosion and leaching.  It also has a great capacity for carbon sequestration, high efficiency in energy conversion and also generates energy using various products.
Government Support for Oil Palm
The importance and potential of this versatile crop has been recognized by the Government of India and adequate support is being extended for conducting research and development in oil palm. TheTechnology Mission on Oil seeds and Pulses (TMOP) set up by the Ministry of Agriculture, Government of India during 1986 launched a massive Oil Palm Development Programme (OPDP) during the eighth five year plan (in the year 1991-92).
From 2004-05 onwards, the scheme is being implemented as part of the "Integrated Scheme of Oilseeds, Pulses, Oil Palm & Maize" (ISOPOM) and provides support for Oil Palm cultivation in 12 states viz, Andhra Pradesh, Assam, Gujarat, Goa, Karnataka, Kerala, Maharashtra, Mizoram, Orissa, Tamil Nadu, Tripura & West Bengal. Under ISOPOM, support is provided for planting material, cultivation cost, installation of drip irrigation system, diesel pump sets, training, development of waste land and technology transfer through demonstration and publicity.
The Government support in the form of subsidy for planting material in the state of Andhra Pradesh is given in Table 1 as an example. The actual support, however, depends on the component (like whether it is planting material or farm inputs or irrigation, etc) and the state taking up the oil palm development program.
Identified areas are allocated to private entrepreneurs for overall development of the sector i.e. from plantation to procurement of Fresh Fruit Bunches (FFBs) at the prices fixed by the Project Management Committee (PMC) constituted under OPDP. At present Andhra Pradesh, Tamil Nadu, Mizoram and Goa have enacted Oil Palm Act while other States are yet to initiate such regulatory provision.
Table.1 Cost of oil palm sprouts and seedlings (in Rs.) vis-à-vis Govt. subsidy as on October 2013 in the state of Andhra Pradesh.
| | | | | | |
| --- | --- | --- | --- | --- | --- |
| S. No. | Item | DOPR, Pedavegi | Private companies | Cost to the farmer | Govt Subsidy |
| 1 | Sprouts | 20 | 20 | N A | NA |
| 2 | Seedlings |   |   |   |   |
|   | (a) Indigenous | 55 | 60 | 5 | 55 |
|   | (b) Imported | - | 90 | 10 | 80 |
The Department of Agriculture and Cooperation (DAC), Government of India launched a special programme on Oil Palm Area Expansion (OPAE) during 2011-12 in identified eight States viz., Andhra Pradesh, Chhattisgarh, Gujarat, Karnataka, Maharashtra, Mizoram, Orissa and Tamil Nadu to bring an additional area of 60,000 ha with an allocation of Rs.300.00 crore.
A Mission on Oilseeds and Oil Palm is proposed to be launched during XII Plan period (2012-13 to 2016-17) by subsuming ongoing Integrated Scheme of Oilseeds, Pulses, Oil Palm and Maize (ISOPOM), Central Sector Scheme on Tree Borne Oilseeds (TBOs) and Oil Palm Area Expansion (OPAE). Under the above programmes large quantities of oil palm planting material (sprouts) had to be imported to cover the targeted area.
To achieve the targets proposed in Oil Palm Development Programme (OPDP) efforts were made by the Government of India to meet the requirement of planting materials through both establishment of seed gardens for enhancing the indigenous hybrid seed production and identification of exotic sources for imports.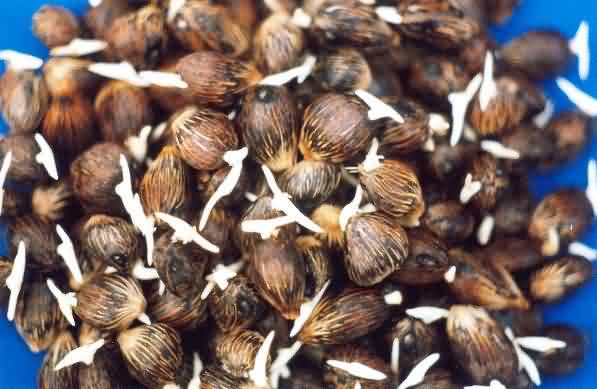 Oil Palm Planting Material
Oil palm is commercially propagated through seed (hybrid seed from the cross of Dura, D x Pisifera, P). Seeds which have a dormancy or rest period for about 2 - 3 months are germinated under controlled condition and sprouts transported to desired locations where the seedlings (up to 12 – 14 months of age) will be raised in a nursery.
The state Horticultural/Agricultural departments and entrepreneurs involved in oil palm Development Project (OPDP) procure oil palm sprouts to raise seedlings for distribution to the farmers. Initially germinated sprouts are planted in small polybags and maintained in a primary nursery for 3-5 months. Polythene bags should be filled with potting mixture consolidated and tapped well and watered copiously prior to planting of the sprouts.
The potting mixture could be prepared by using red earth, tank silt and sand in equal proportions. About 2.5 tonnes/m2 of soil mixture is required for filling 1000 small bags for primary nursery. About 10 kg DAP and 10 kg of neem cake can be incorporated with every 2.5 tonnes of mixture. About 2.5 tonnes of soil mixture is sufficient to fill 100 big bags.
A hole is made in centre of the soil mixture with a diameter larger than that of sprouts (2 cm). The sprout with well-differentiated plumule and radicle (50-10 mm long) is planted firmly.
Subsequently they are transplanted and maintained at secondary nursery for another seven to eight months. 12-14 months old seedlings are recommenced for planting in the main field by adopting a spacing of 9 x 9 x 9 in a triangular design.
Why is it called hybrid seed?
Based on the thickness of shell in the oil palm fruit, there are three types of palms dura, pisifera and tenera in E. guineensis which are described in Table 2. Until 1930's dura were cultivated on commercial scale in Asia as well as in African countries and the pisifera is not cultivated as it is mostly female sterile producing no bunches. The superior oil content of the tenera led to the use of T x T seed for commercial planting from 1930's.
It was later (in 1938) found that about 25% palms are sterile (pisifera) in T x T population resulting in great loss to the farmers as a fourth of plantation was not yielding. Tenera selfing for getting the planting material was found to yield dura, tenera and pisifera in 1:2:1 ratio as the shell character is controlled by single gene.
Beirnaert (1940) found the hybrid nature of tenera and advocated use of hybrid seed (from D x P). Consequently in Congo (late 1940's), Sumatra (1953) and Malaysia (1956) large scale planting of tenera has been taken up owing to superior oil content. Thus the hybrid seed from selected mother palms (dura) and pollen parents (pisifera) has become the commercial planting material.
The oil palm breeding program aims at improvement of mother palms (Dura improvement) and pollen parent (Pisifera improvement) separately and testing their combining ability in order to use the selected mother palms and pisiferas in hybrid seed production. The concept of a variety in true sense is not applicable to oil palm.
Table. 2 Fruit form types in oil palm
S. No.

Character

Dura

Pisifera

Tenera

1

Shell thickness (mm)

2 -8

      -

0.5 – 4

2

Shell thickness (%)

25 -65

 

1 – 30

3

Mesocarp content (%)

33 – 55

96 – 100

60 – 95

4

Kernel (%)

5 – 25

0 – 4

2 – 15

5

Presence of ring of fibre

No

Yes

Yes

6

Seed/nut size (cm)

2 -3

-           

< 2

7

Seed/nut weight (g)

4 – 13

-           

2         

8

Utility

Mother palm

Pollen parent

(mostly female sterile)

Commercial planting material (Cross between Dura x Pisifera)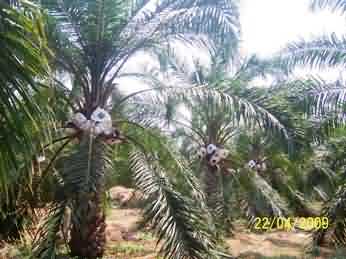 Oil Palm Seed Gardens
In India oil palm hybrid seed production has been started in the exclusive 'Oil Palm Seed Gardens' established in different parts of the country from time to time.  
 The first seed garden established at Palode (near Trivandrum, Kerala) with base material from OPIL, Thodupuzha (basic breeding materials introduced from Malaysia and Nigeria) started seed production from the year 1982.
Subsequently to boost the indigenous production of planting material, TMOP encouraged establishment of oil palm seed gardens in the country.
Accordingly, five more seed gardens (Table 3), one at Directorate of Oil Palm Research (DOPR, Pedavegi), two under State Departments of Horticulture (in Andhra Pradesh at Rajahmundry and in Karnataka at Taraka), one under Oil Palm India Limited at Thodupuzha (joint venture of Governments of India and Government of Kerala State) and one under private sector (M/s Navabharat Agro Products Limited, Andhra Pradesh at Lakshmipuram, Near Jangareddygudem, West Godavari Dist., A.P.) were established.
Owing to the ambitious Oil Palm Area Expansion (OPAE) programme proposed by the Government of India, it has become necessary to augment the indigenous seed production by establishing more seed gardens.
Three more seed gardens were planted at Kabini (Department of Horticulture, Govt. of Karnataka); Morampudi (Department of Horticulture, Govt. of Andhra Pradesh) and at Taraka (Taraka – II) (Department of Horticulture, Govt. of Karnataka) during 2012 which were expected to come in to production from the year 2020.
Table. 3 Oil palm seed gardens in India
S. No.

Seed garden

Year of production

Contact person

Capacity (lakhs)

1

Palode, Kerala

1980's

Scientist-in-Charge, DOPR, Research centre, Palode, Pacha P.O. 695562, Trivandrum, Kerala

9.50

2

Thodupuzha, Kerala

1980's

Oil Palm India Limited, Regd. office XIV/130, Kodimatha, Kottayam South P.O.

Kottayam-686013, Kerala

12.50

3

Lakshmipuram, Near Jangareddygudem, West Godavari Dist., A.P.

2000-01

M/s. Navabharat Agro Products Ltd., Uppalametta, Jangareddygudem-534 447,

Dist. West Godavari, A.P.

6.75

4

Pedavegi, Dist. West Godavari, A. P.

2000-01

Director, Directorate of Oil Palm Research, Pedavegi-534450, Dist. West Godavari, A. P.

6.00

5

Rajahmundry, Dist. East Godavari,  A.P.

2002-03

Asst Director of Horticulture, Oil Palm Seed Garden, Rajahmundry, Dist. East Godavari - 533103, A.P

9.75

6

Taraka, Karnataka

2005-06

Assistant Director of Horticulture, Oil Palm Seed Garden, Taraka, Mysore 571114, Karnataka.

7.00

 

 

 

TOTAL

51.50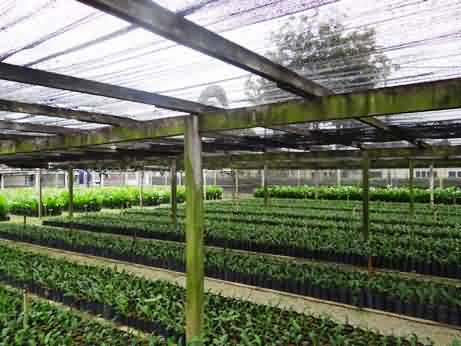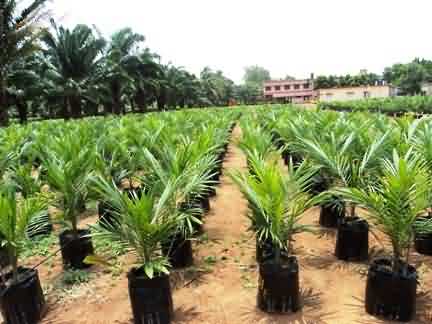 Selection of the seedlings for main field
Oil palm once planted lasts long (giving economic yields for more than 30-35 years), hence, any variation (quality issues or defects)  in the planting material will have serious adverse effects on its sustainability. Quality checks are required right from processing of seed (mesocarp removal or depericarping, physical abnormalities, moisture content, etc), heating treatment (intended for dormancy breaking), during and after germination, primary nursery, secondary nursery and finally at the time of dispatch. Few tips which help a farmer in selecting/procuring best oil palm seedlings for transplanting in their field are given below.
Healthy seedlings of 12 – 14 months age with 1.0 -1.3 m height from base and 13 functional leaves with good girth at collar are to be selected.

Seedlings showing symptoms of any disease/insect pest or physiological disorder/deformity should be avoided.

Seedlings of known source (pedigree) should only be used.

In the secondary or main nursery different types of abnormalities are observed. These off-types (Table 4) are to be avoided in the final selection.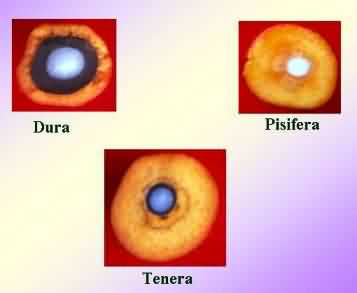 Table. 4 Off-types or abnormalities observed in the secondary/ main nursery.
| | | |
| --- | --- | --- |
| S. No. | Off-type Or abnormality | Description |
| 1 | Runt | Less vigorous and much smaller. Even after 18-24 months such seedlings look like mere young seedlings. |
| 2 | Upright or sterile | Seedlings have a definite appearance with rigid looking fronds. The frond bases are widely spaced from each other & are most vigorous in growth. |
| 3 | Flat top | Seedlings with a distinct flat top appearance with the newly developed fronds seldom projecting beyond the old fronds. |
| 4 | Narrow pinnate | Seedlings having very narrow, sharply pointed pinnae quite often having pale colour than normal should be avoided |
| 5 | Collente | Seedlings give rise to a form of constriction around the central part of the lamina. In the first instance this constriction can be separated not to allow constriction in newly emerging leaves. This could arise from low water availability or contact with soil contaminated with residual chemicals. In some cases, plants adequately provided with water also show collente symptoms. This could be attributed to Boron deficiency. |
| 6 | Chimera | Seedlings show chlorotic or white leaf tissue, which is devoid of chlorophyll. The intensity varies in degree. This is due to genetic influence and such seedlings should be considered off- type and invariably removed. |
The efforts by Government of India along with Indian Council of Agricultural Research (ICAR) as well as state governments (through Departments of Horticulture or Agriculture) in establishing oil palm seed gardens has made significant contribution to enhance availability of quality planting material which in turn resulted in area expansion vis-à-vis narrowing the gap in vegetable oil production in the country.
---
Authors
 P. Naveen Kumar1, Ravi Kumar Mathur2, K. Sunilkumar1 and G. Ravichandran1
1.Senior Scientists & 2. Principal Scientist
Directorate of Oil Palm Research, Pedavegi – 534450,
West Godavari Dist., A. P., India
E mail: This email address is being protected from spambots. You need JavaScript enabled to view it.